There is more to Canada just Niagara Falls! The diverse country offers a host of sightseeing and adventure activities to tourists from all over the world. From rich wildlife to mesmerizing beaches, Canada has something to cater to the varied tastes of travelers. With visa requirements to Canada being really simple, all you need is to plan ahead and enjoy the great Canadian getaway in 2023.
1.Garibaldi Lake, British Columbia
The main attraction of this beautiful lake is the ambience created by tall peaks like Black Tusk. It is only two hour drive from Vancouver and receives a lot of tourists who are visiting Vancouver.  There are a number of tourist activities for tourists in both summers and winters; in summers, you can indulge in canoeing and swimming, whereas hiking remains the preferred outdoor activity among tourists during the winters. Garibaldi Lake remains one of the best places to visit in Canada all throughout the year.
2.Maligne Lake, Jasper National Park, Alberta, Canada
Maligne Lake is as stunning as it gets – the crystal blue water, the Great Canadian Moose, and the 27-mile Spirit Island. It is no wonder that Maligne Lake and Spirit Island remain the most photographed tourist attractions, not only in Canada but also globally.
There are a number of world-renowned hotels and resorts in the vicinity of Maligne Lake. So, if you are looking for a relaxing, rejuvenating getaway Maligne Lake in Alberta is the place to be at.
3.Great Slave Lake, Northwest Territories
Great Slave Lake is on this list not only because of its sheer size (yes, the lake looks like a sea) but also because of its beauty and ambience. The lake remains covered in snow all year round, but when it does open to the public in summers, it sees a flock of tourists who spend the days and evenings on the beaches.
If you are visiting Northwest Territories, Great Slave Lake is simply a fun and relaxing place to have a great getaway.
4.Emerald Lake, British Columbia
Emerald Lake is the biggest of 61 lakes in Yoho National Park, British Columbia. The lake is a favorite among tourists visiting the Yoho National Park, as it offers the perfect backdrop for spending a day out. The Lake has over 3 miles of hiking track, and canoeing and trekking remains a popular activity at the Lake. If you are looking at enjoying the Canadian side of Rocky Mountains and take in breathtaking views of the President Mountain Range, Emerald Lake is the place for you.
5.Lake Louise, Alberta
It is difficult for every travel writer to describe the beauty of Lake Louise in words. One of the finest in Alberta, the lake and its legendary trails are very popular among local and international tourists. Kayaking and canoeing are among the popular activities, and you will be surprised to know that some trails can also be traversed on two-wheelers. The best view of Lake Louise is at the summit of Fairview Mountain, but for that, you will need to trek nearly 9,000 feet!
6.Joffre Lakes, British Columbia
Joffre Lakes Provincial Park in British Columbia has a total of three lakes, of which, only one is accessible without hiking. The other two upper lakes require two hours of steep uphill like. In spite of these challenges, Joffre Lakes remain some of the visited tourist attractions in Canada. The Lakes are popular among backpackers, who usually start early in the morning and return before dusk. Owing to the lack of accommodation at the Provincial Park, most tourists drive to Whistler and spend the night in one of the many beautiful resorts.
7.Moraine Lakes, Banff National Park
Popular among tourists from all over the world, the Moraine Lakes in Banff National Park, one of the Canada Mountain towns, are a delight to spend some quality time with your friends and family. After a not so challenging hike, you reach the Valley of Ten Peaks, and that is where all the magic happens. Moraine Lakes offeroffers the perfect ambience to spend a day out, and you will see tourists of different nationalities visiting the place.
8.Okanagan Lake, British Columbia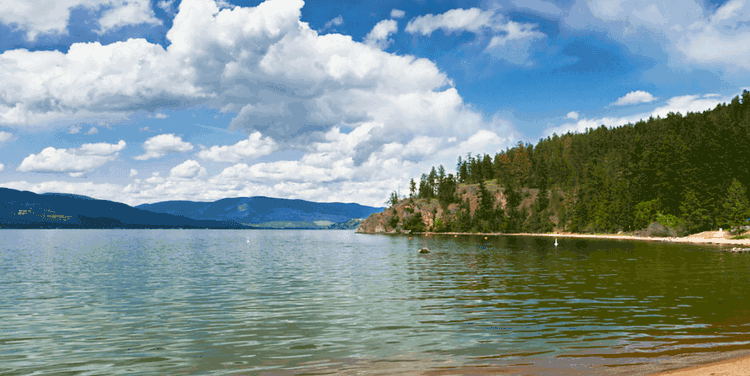 Okanagan Lake welcomes tourists from all over, especially during the summers, as the mild climate makes the water perfect for swimming and sunbathing. The Lake is among the largest lakes in Canada, and spans three cities, including Penticton, Vernon, and Kelowna.
Considering the size of the lake, a number of resorts have sprung up along the lake, offering the best of food and accommodation to tourists. Okanagan is home to some fine wineries as well, and a tour to Uncorked can be fulfilling.
9.Pyramid Lake, Alberta
Pyramid Lake in Alberta offers majestic backdrops for a great family vacation in Canada. The lake is flanked by the majestic Pyramid Mountain, which makes the place one of the most photographed. The lake freezes in the winter and tourist flock there to indulge in some ice-skating and snowshoeing. During summers, the lake transforms into a spot for barbeque fire pits and windsurfing!
10.Upper Arrow Lake, British Columbia
A perfect summer lake, the Upper Arrow Lake is covered by a thick expanse of pine forest, which gives tourists soothing shade and the perfect ambience for spending a day out. Ferries transport tourists from shore to shore, and some really amazing breathtaking views are on offer. If you are in the mood to have a quiet retreat, the sheltered anchorages at the Upper Arrow Lake will not let you down. Pay a visit to one of the most beautiful lakes in Canada to experience it yourself.
These top 10 lakes in Canada are in no order, as we believe beauty cannot be quantified. This list is not exhaustive, and there are many more surreal lakes in Canada that offer great experiences to tourists. Do let our readers know about your Canada travel experience or some of the best spots to visit in the comments section.